Getting paid through a shared payment link
The Autobooks' payment form works hand in hand with digital payment acceptance. The payment form looks like a typical checkout page and can completed by you or your paying customer during a transaction.
Autobooks allows your customers to conveniently pay with a debit card, credit card, or by bank transfer (ACH). The payment is processed for a competitive fee, then deposited into your checking account within 1-2 business days.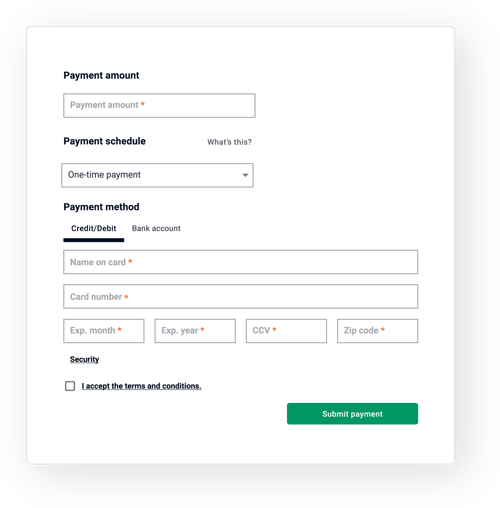 The power of the payment form lies in its versatility. A small business user can take immediate payments from customers on the spot, or have the customer pay later. Below, we will describe the process for sharing a payment link with a customer — so that they can complete the transaction themselves.
Would you rather enter the payment details yourself? Learn more about accepting payments on the spot, directly inside digital banking.
Sharing a Payment Link with customers
---
There will be times when the customer will need to enter their own payment details. For instance, the customer may not be in face-to-face proximity, or may not have a payment method handy. This is where the payment form link comes in handy.
A small business user can simply log into online or mobile banking, copy their unique link, then paste it onto a text message or email and send it off to a customer. The customer will click the link to your payment form when they are ready, then complete the transaction themselves.
In some circumstances, it may be easier to share a QR code in person, from your screen. The QR code, once shared, functions much like the text link. The customer simply scans from their device, then completes the transaction themselves.
Access your Payment Link now
---
To copy your unique and reusable payment form link, just follow these simple steps:
Log into your financial institution's online or mobile banking and click Accept a payment/Payment Link from the dashboard. If that option is not available, just select Autobooks from the navigation.
Inside the Payment Form/Payment Link tab, there is a section entitled Share your Payment Link.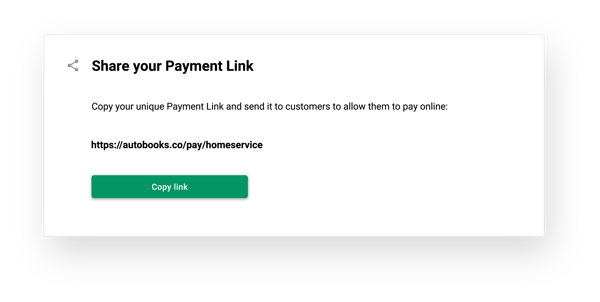 Click the Copy link Your payment form link can now be pasted and shared in a variety of ways, so that customers can pay online.
QR codes can be accessed from the same screen:
Inside the Payment Form/Payment Link tab, there is a section entitled Accept a payment/Payment Link (right above the payment form link).
Click the Display QR code Your QR code can now be shared from your screen directly with customers, or downloaded for use later in a variety of ways.
That's it! Customers can access your payment form by either scanning your unique QR code or by clicking on your unique payment link. The process for getting paid through a payment link or QR code may be straightforward, but the possibilities in how you can share your QR code are many.
Customer experience
---
Customers will see the same payment form as the small business user, but they will enter their own information. This includes the payment amount and the payment method. Immediately after they pay, they will see a confirmation letting them know that the transaction has been completed.
Once a payment is made, you will receive an email notification. Autobooks also automates the payment record keeping. This makes it easy to track all of your customer payments and balances.
Ideal for all kinds of small businesses
---
Businesses and organizations of all kinds can benefit from the Autobooks payment link.
Churches and nonprofits
You can update your Autobooks payment form to take donations or contributions from your patrons, instead of payments. Just edit your payment form to replace every instance of the "payment" with language that is more aligned with your mission.
Freelancers and professionals
Independent workers who deliver professional services, like writers, photographers, and graphic designers, can use the Autobooks payment link to take payments before or after a job, without the formality or delays associated with invoicing.
Client-focused businesses
Yoga instructors, masseuses, and other client-focused workers can take payments immediately before a class or session. Your payment form gives your clients the ability to set up recurring monthly and weekly payments to stay up to date.
Your payment link is easy to share
---
Here are four ways to share your payment form:
1. Embed a checkout link or button on a website or on social media
Copy and paste your payment form link into your marketing website or social media profile. For added prominence, turn the link into a button and use conversion-focused verbiage like "Pay Now" or "Donate."
2. Share your payment link from your device, via text message or email
Set up your payment form for easy check outs, then copy and paste your secure link into a text message or email communication. Customer are taken to your payment form by simply clicking on your link.
3. Print your QR code and display it prominently at your storefront or event
QR codes are ideal for in-person events where you plan to meet with multiple customers or donors. Some examples are fundraisers, community gatherings, and farmers' markets. Simply download your QR code and print from your computer.
4. Place your payment link in customer communications, including PDF invoices
If you are relying on invoicing outside of Autobooks, you can still share a link or QR code to your payment form. This especially works well for paper invoices. Simply copy and paste your link into any customer communication.
Get started with Autobooks invoicing and payment acceptance
---
Autobooks is offered in partnership with hundreds of small-business-friendly banks and credit unions, nationwide. If you don't currently use Autobooks, you can contact a partnering financial institution from our growing list.
If you still have questions or need specific help, please visit the Autobooks Support Center. You can access a variety of how-to content there, or just submit a support ticket to chat with one of our support specialists.