Contents:
What is an invoice?
Why you need an invoicing process
Types of invoices
How to create an invoice
How to start invoicing with Autobooks
The customer experience
Managing invoices with Autobooks
Get Autobooks today
What is an invoice

?
---
An invoice is simply an itemized bill for products or services rendered, along with a method that allows customers to pay. It typically includes all the important details, like a unique invoice number, the amount due, a due date, a listing of the product/service, and more. Invoices are usually sent out by the business after the service has been completed, either electronically or by mail.
If you are contemplating (or already run) an organization, a service-oriented business, or a client-focused firm, invoicing will likely be your de-facto way to take payments.
Autobooks makes invoicing easy
Autobooks is a versatile digital payment acceptance solution that works inside your financial institution's online and mobile banking platform. Autobooks makes it easy to share an online invoice with customers through a ready-made invoice template that looks professional and includes all the essential information you need. In addition, Autobooks allows you to accept a variety of payment types, including debit cards, all major credit cards, and ACH bank transfers.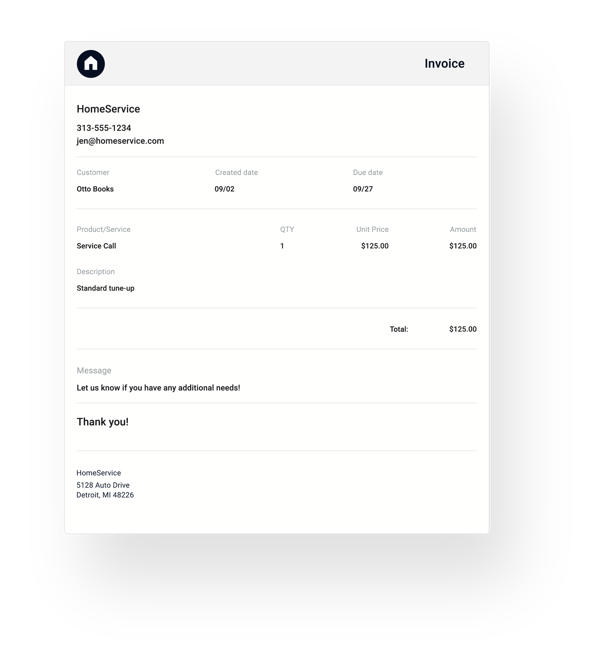 Why you need an invoicing process
---
Most experts point to a lack of working capital or funding as one of the top reasons small businesses fail. For example, one study by U.S. Bank shows that 82% of small businesses fail because of cash flow mismanagement. Without a steady cash flow, there is no business.
Improved cash flow
But there's one (big) problem. It can take long time to get paid by paper invoice: from weeks to months. One major study puts the average between 27–41 days. As you know, a lot can happen in a month, like payroll or vendor payments.
This means you need to establish a solid invoicing process. Your customers will expect some professionalism in this regard. They'll likely expect timely, complete, and easy-to-understand invoices. Ultimately, the easier you make it to get paid, the faster you will likely get paid. This is where electronic invoices — an Autobooks specialty — become indispensable. After all, 95% of Autobooks users are paid within five business days.
Be ready for the tax season
Your accountants will appreciate it, too. Invoicing plays a key role during the tax season. By bringing all of your accounts into your online and mobile banking platform, you can more easily track your business income and expense activity. This includes a record of all your invoices.
Learn more: Five tips to help you prepare for the coming tax season with Autobooks
Types of invoices
---
There are different kinds of invoices, based on the work your business provides. For example, contractors often rely on estimates or proposals. An estimate may resemble an invoice, but there is no expectation for payment. Instead, it simply details what the service will cost once it is completed.
Estimates
Autobooks makes it easy to create an estimate from the Invoicing screen. You can set an expiration date for your estimate, track outstanding estimates, and convert estimates to formal invoices all within our tool.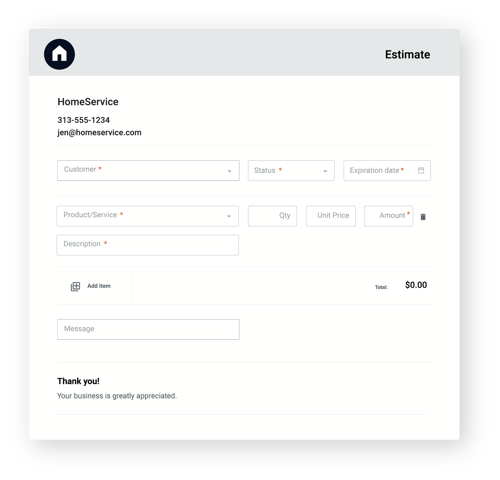 Learn more: Create an estimate for your potential customer
Recurring Invoices
If you own a business that delivers regular work, such as landscaping or cleaning, you can make your invoices recur at specific intervals. When you're creating a recurring invoice, you're setting up a schedule that will send an invoice to your customer on a regular basis.
Learn more: Create a recurring invoice
How to create an invoice
---
Before the internet, businesses relied on paper invoices, often delivered by snail mail. Some businesses still rely on this option; however, it can delay payments significantly. The invoice must be delivered to a physical address, and payment are often made by check.
Thanks to email, businesses now have a faster and more convenient electronic option that, in combination with card and ACH payments, has become real game changer.
With Autobooks, a small business can send a professional invoice or estimate right from their online and mobile banking, delivered to a customer's inbox. This reduces the chance of an invoice getting lost. A customer can simply search their inbox for an invoice sent from your business. Invoices can be paid online, via card or bank transfer (ACH).
How to start invoicing with Autobooks
---
Autobooks is built to make invoicing a straightforward affair. Most users can simply click on Send an invoice inside their online or mobile banking dashboard, then quickly create a new invoice from there. There's no need to rely on external apps or overly complex software.
The invoice template
The Autobooks invoice template offers a ready-made, professional invoice that can be completed in under a minute. There are only a few required fields, such as the customer's name, due date, price, and total due. Of course, the more information you provide upfront, the better. The Autobooks invoice also includes your financial institution's logo at the bottom, for added credibility.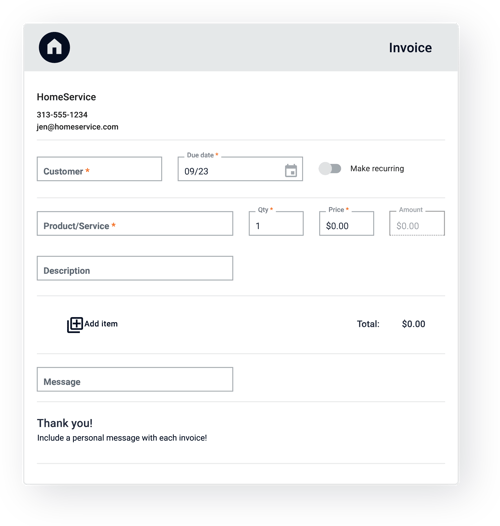 Learn more: Create and send an invoice
Simplified invoicing on the move
Autobooks offers a simplified invoice builder for users accessing Autobooks through a mobile device. Some users prefer a simplified invoicing experience while on the go. This allows them to send an invoice while on a job with just a few taps on their device, instead of having to remember to do it back at the office or once they get home. At any point in the simplified invoice process, the user can choose to go to a more detailed invoicing template.
Learn more: Simplified Invoicing for mobile users
The customer experience
---
When you send an invoice through Autobooks, your customer will receive an email from you that includes important details like the amount and due date. The pay invoice button will take them to the full invoice, with the description and any memos you included. The pay online button opens up the payment page, where your customers can pay with major credit and debit cards or an electronic bank transfer.
Once a payment is made, you and your customer receive email confirmations. Autobooks automates the payment record keeping. This makes it easy to track all of your customer payments and balances.
Managing invoices with Autobooks
---
The simplest way to stay on top of invoices is to track them all in one centralized location. With Autobooks, this is the Invoicing menu and its various tabs.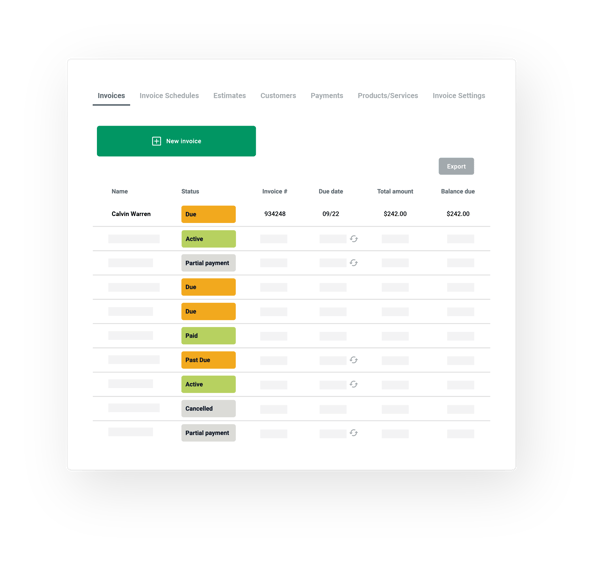 Invoice payments received through Autobooks are located in the Payments tab within the Invoicing view. Payments are listed chronologically, with the most recent at the top. The list is organized with the most recent payment at the top, to provide an at-a-glance view.
Customer payments
Customer payments go directly into your bank account typically within two business days. You can easily track them inside online or mobile banking. This also means that funds can be accessed quickly, without having to worry about external, third-party payment apps getting in the way.
Learn more: View invoice payments
Late payments
Customers forget to pay invoices all the time. The Invoices tab within the Invoicing view offers a color-coded list with not only paid invoices, but also due and past due invoices. You can click into any invoice to review and re-send, if need be. You can also enable automated reminder emails and automated late fees to save time with customer payment follow-up.
Get Autobooks today
---
Autobooks is offered in partnership with hundreds of small-business-friendly banks and credit unions, nationwide. If you don't currently use Autobooks, you can contact a partnering financial institution from our growing list.
If you still have questions or need specific help, please visit the Autobooks Support Center. You can access a variety of how-to content there, or just submit a support ticket to chat with one of our support specialists.