Five benefits to getting paid through your financial institution
If you run a small business or a side hustle, it's likely that you've had to find a digital payment acceptance solution. Or perhaps you're in the midst of that search now. You've also probably realized that there are many options to choose from. Some payment acceptance tools come included in larger software suites, while other may be more focused on just the card acceptance or the invoicing functionality. You might even have downloaded a free payment acceptance app at some point.
None of the aforementioned options, however, are offered or supported by your bank or credit union. And we believe that makes a big difference.
Autobooks offers your small business a unique and compelling value proposition. It was built from the ground up to be a part of your everyday banking. At this point, you may wonder why this is important, or even ask yourself: why would a small business choose to get paid through their financial institution? We'll be answering that question below with five major benefits.
Reason 1:
One app. One login.
Less to worry about.
---
We know that when you're in a hurry to get paid, convenience matters. That's one big reason why some business owners just settle for the app they're already using, even if it's expensive to maintain or offers little business benefits. Like so many things in life, if it's easy to use, you'll probably end up using it.
But if you rely on your financial institution's online or mobile banking to take care of your financial needs, you already have access to Autobooks. Like bill pay or remote deposit capture, Autobooks' digital invoicing and payment acceptance features are readily available on your banking dashboard (or via the main menu). There's no additional hardware required — no dongle, card reader, or terminal. Just log into online or mobile banking to send an invoice or accept a payment, in-app or through a shared payment link. That easy!

As a result, your online or mobile banking can now take a central role in how you get paid. There's no longer a need to juggle multiple apps and platforms, and the plethora of usernames and password associated with them. And because your banking app is supported and regularly maintained by your financial institution, it is likely safer and far more secure than many non-bank apps. Plus, if there's ever an issue, you know who you can contact (you may even know that person by name!).
Reason 2:
Funds are deposited directly into your checking
---
One major downside to popular payment acceptance apps is the way funds are distributed. After a customer pays, funds are typically placed into a virtual wallet or balance. To transfer those funds into your actual checking, you have to take additional actions that can add time or fees to the equation. Ultimately, these companies want to keep you and your funds inside their ecosystem where they can benefit from your ongoing activity — so they will do everything they can to slow down the transfer process. Of course, it's easy to forget about these funds altogether, especially if they are locked away inside rarely used apps.
Autobooks, in partnership with your financial institution, makes it easy to access your customer payments. Any time your invoice is paid, or you accept a payment through the payment link, funds are deposited directly into your checking account — typically within 1-2 business days. And unlike non-bank companies*, your funds are always insured up to $250,000 by the federal government.
*To reassure users, some non-banks have set up complex arrangements with partnering banks to help protect held funds— but this approach is not always a given.
Reason 3:
Cash flow becomes easier to manage
---
Cash flow is critical to the ongoing success of any small business. Most experts point to a lack of working capital or funding as one of the top reasons small businesses fail. One study by U.S. Bank shows that 82% of small businesses fail because of cash flow mismanagement. Without a steady cash flow, you don't have a business for very long.
Autobooks doesn't get in the way of your payments by holding them unnecessarily. If anything, we facilitate them by partnering with your financial institution to help simplify your cash flow. When you make the account held at your financial institution the destination for all of your customer payments, it becomes much easier to keep track of your working capital because it's now held in one place. It also gives you a good reason to streamline or altogether eliminate all of your other payment acceptance apps. After all, the fewer virtual wallets you have, the easier it becomes to manage your available money (and just as importantly, not forget about it).
Autobooks includes some helpful tools to stay on top of your money. You can easily monitor your balance at any time in the same place you send invoices and share your payment link. All customer payments, whether due, past due or paid, can be viewed at a glance.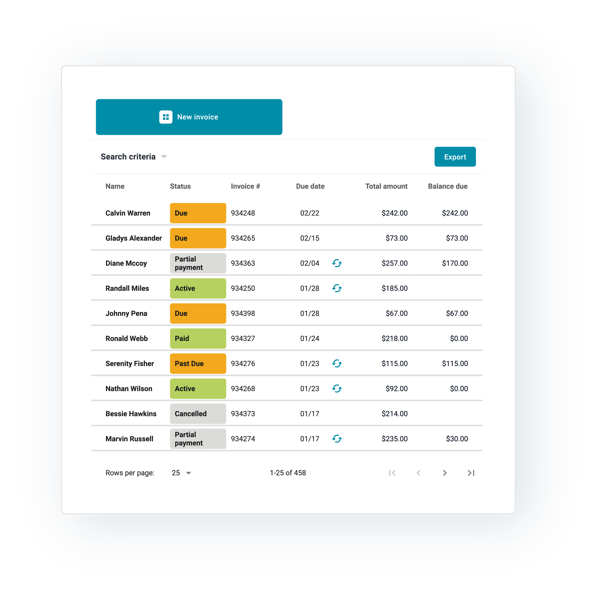 You can also add accounting and reporting capabilities for an additional monthly fee. By activating these features, you can take your business's cash flow management to the next level. Easily add and track additional business accounts, monitor a built-in dashboard for an at-a-glance view of customer activity, and get access to an assortment of automated reports (like a profit and loss statement).
Reason 4:


Processing fees are easier to understand
---
When you accept an online payment through Autobooks, there is a processing fee included.
We make every effort to keep these fees competitive and easy to understand. Businesses only pay one simple fee when accepting payments (as described here). These fees are never hidden, and are comparable to other service providers that offer online invoicing and card-not-present payment processing.
When you accept a card not present payment, you will incur a 3.49% transaction fee**. This fee is competitive when compared to online card-not-present solutions offered in market. For ACH-based payments, you will incur a 1% transaction fee**. This fee is competitive when compared to online card-not-present solutions offered in market.
We understand that processing fees often get overlooked in the rush to receive a customer payment. Some businesses may not even account for these fees when pricing their products and services. Unfortunately, many business owners simply view this fee as the cost of doing business.
For the reasons cited above, Autobooks has integrated a product pricing tool into its invoice builder (it also appears when new products are added or edited). The hope is that this simple tool can help small business owners better understand how much a transaction will cost in dollars, and how they can adjust their pricing to compensate for processing fees.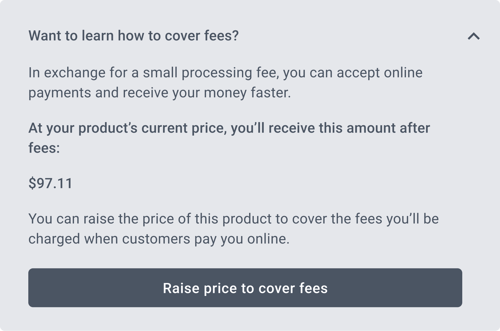 **Please note that the rates cited above are only representative, and may vary somewhat based on the partnering financial institution. Contact your bank or credit union to learn more.
Reason 5:


Develop a productive partnership with your financial institution
---
All community-based financial institutions have grown alongside the communities they proudly serve — some for over a century. When you choose to partner with a financial institution, even if it is a larger one, you are helping to contribute to a healthier, localized economy that benefits all parties involved. This is where big tech companies and start-ups fall short. Most of these non-bank companies are based far way, and are rarely invested in any local communities (except perhaps the one in which they reside).
Because financial institutions have historically served businesses of all sizes, they often have experienced small business experts that are willing to provide input and guidance as you launch and grow your own enterprise. In addition, it's likely that you will come to rely on your financial institution for additional products and services, especially as your business continues to grow.
One clear need for many businesses, and an area where financial institutions excel, is in providing all sorts of business financing. Over time, as you develop trust and a reliable track record based on a consistent cash flow, it will likely become easier to secure bigger loans (if and when you need them).
Get started with Autobooks
---
Autobooks is offered in partnership with hundreds of small-business-friendly banks and credit unions, nationwide. If you don't currently use Autobooks, you can contact a partnering financial institution from our growing list.
If you still have questions or need specific help, please visit the Autobooks Support Center. You can access a variety of how-to content there, or just submit a support ticket to chat with one of our support specialists.